Hello, and how is it already November!? Seems like yesterday we were wearing T-shirts to work, and now we have our bottom halves snuggled up in a chunky blanket at all times. But you'd never know because meetings at Brook Cliff Ltd mainly take place over Zoom (hello, remote-first company culture!). Can you keep a secret?
Speaking of secrets, the news is finally out that we're accelerating our efforts to fix corporate learning for good. On behalf of the entire team, we're equally humbled, excited, and laser-focused on the mission ahead to help companies address today's learning needs with Brook Cliff Ltd. Oh, and by the way, we're going to need extra hands on deck. A lot of them! 
And because there's so much to do, we've been hard at work behind-the-scenes developing exciting features to launch training courses at the speed of business, leverage learner feedback, and save valuable HR admin time.
Without further ado, let's dive in.
Create
For L&D teams working in a fast-paced environment, striking a balance between quantity and quality of new courses is a challenge. Yes, you have to release courses as business needs arise, but you also want authors to enjoy the process.
At Brook Cliff Ltd, we're all about improving the authoring experience so you can create courses at the speed of business without compromising on the quality. 
Introducing: course templates, improved publication workflow, and a new table of contents.
Course templates
Are you crunched for time? Do you have a specific training topic in mind? Do you want to build courses packed with best-in-class knowledge of digital pedagogy?
If your answer is "yes", then keep reading.
With course templates, you can empower your teams to start creating high-quality courses with 5 frameworks, from onboarding to compliance. With these use cases crafted by our team of expert learning coaches, you will launch relevant courses in no time, and wow your learners in the process. Obviously, templates are 100% customizable to your needs. It's all about swinging your creativity into motion!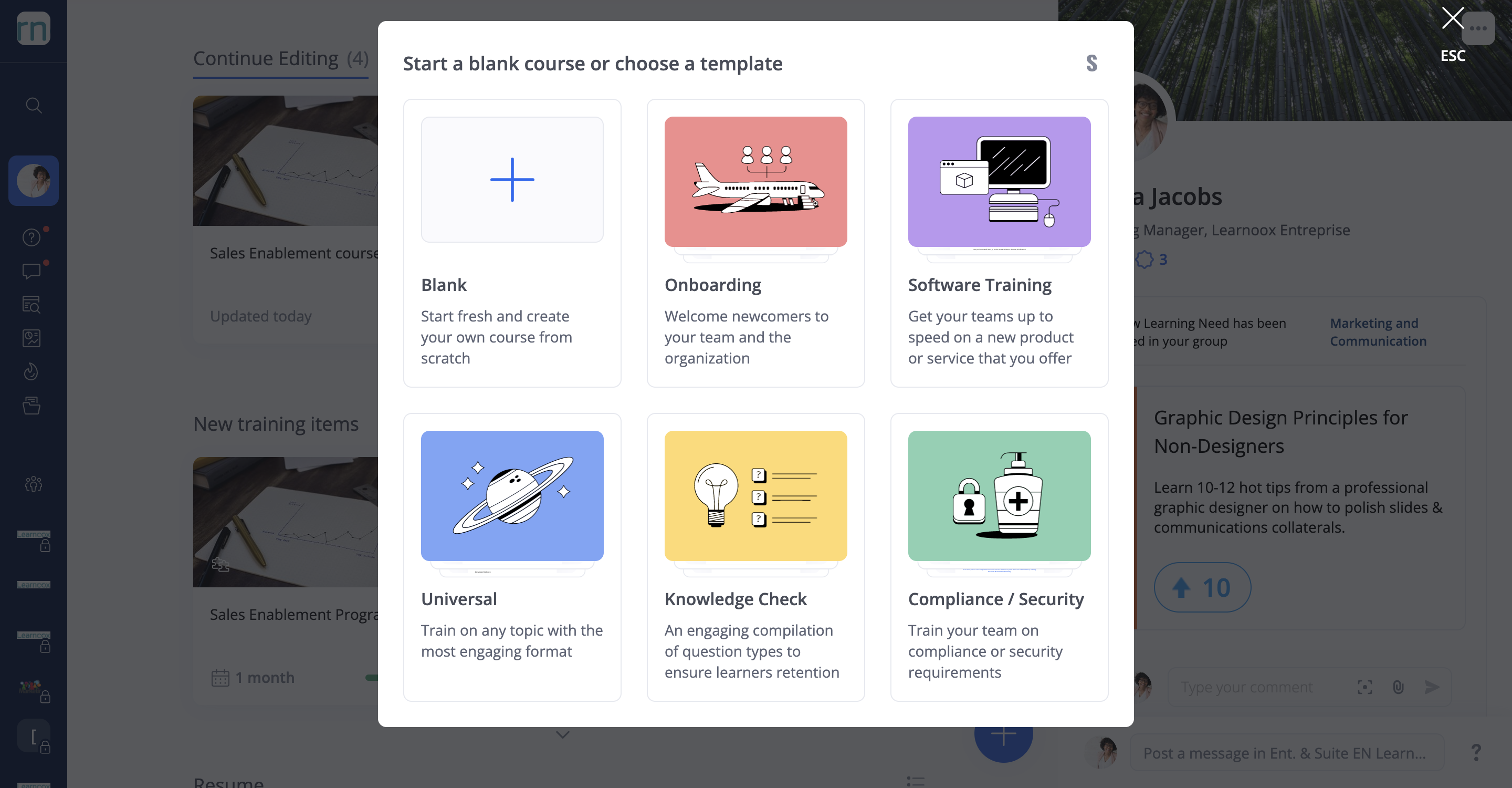 Create a course from a clean slate, or choose from one of our 5 use cases.
Quick publication workflow
With the Brook Cliff Ltd authoring tool, creating your first course only takes 17 minutes. And we're about to speed things up even more!
You will no longer have to create a course draft AND THEN hit "publish". Sure, clicking a button doesn't take much time on its own. But for busy L&D professionals just like you delivering dozens of courses a month, it could spare you valuable time (and mental overload) down the road.
Fear not: removing draft status doesn't mean your training courses will be out in the wild. Learners will only see them once you publish them to their group's catalog or library. Phew.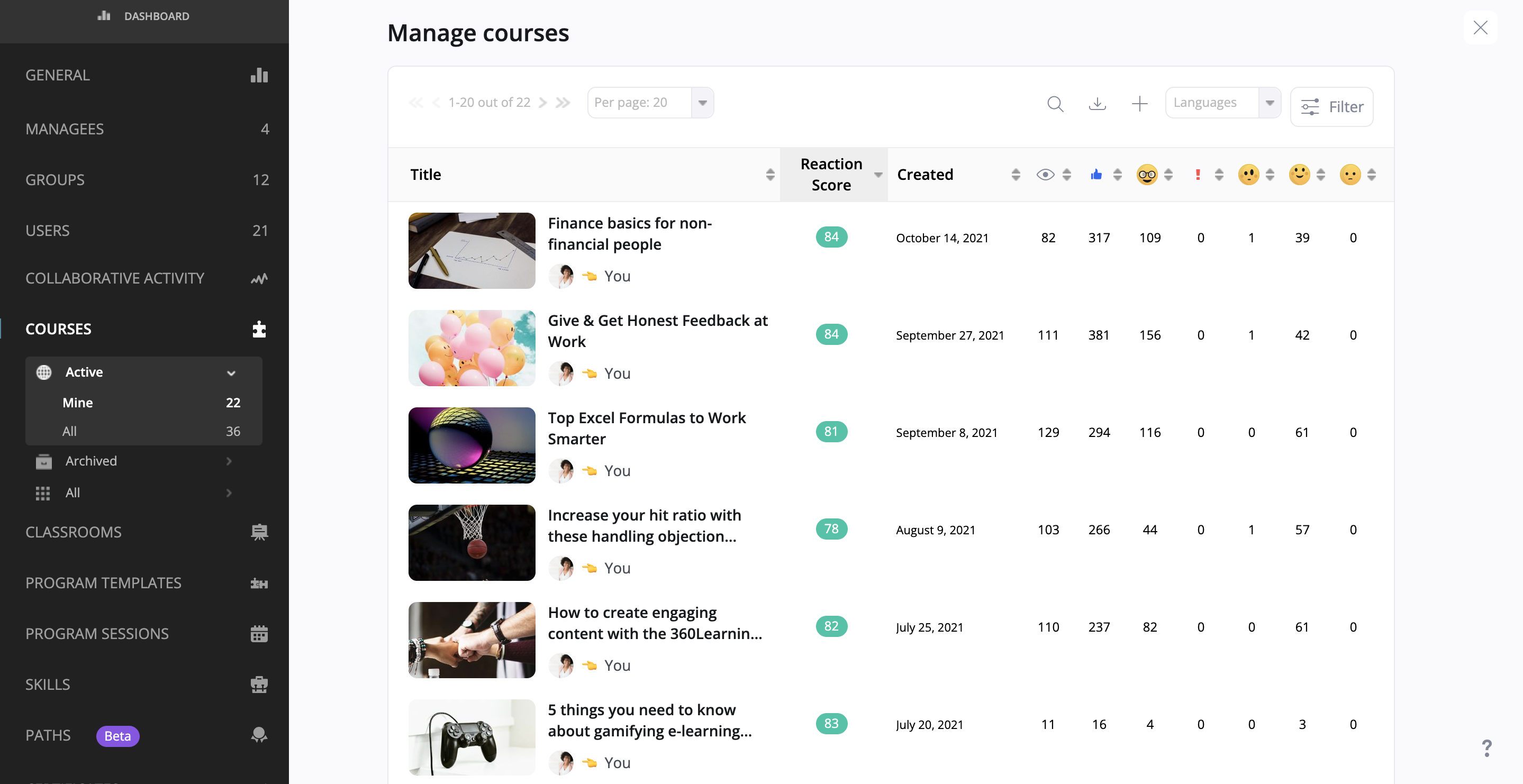 The Courses > Active menu will show all your training courses.
New table of contents
Who doesn't like to get a bird's-eye view of the course they're building?
We're homing in on that tinge of reassurance with a brand new table of contents. You will be able to preview course activities, duplicate them with a couple of clicks, and assess pending comments at a glance.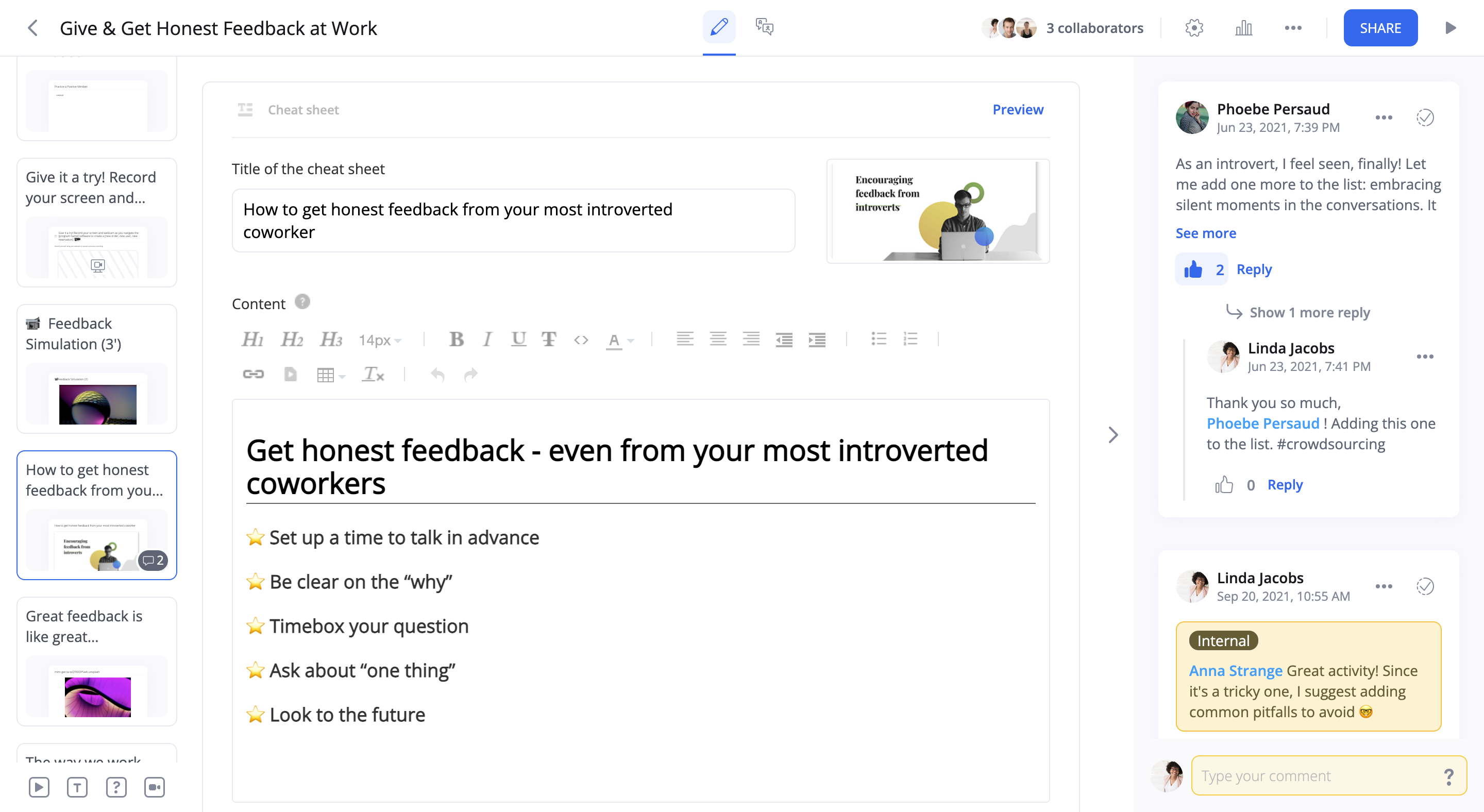 Get the big picture of your course in Edit mode.
Deliver a best-in-class learning experience
Learning doesn't happen in a vacuum, and poor completion metrics attached to traditional LMSs (around 20%) can only attest to this. Engagement rates can only take off when your employees feel like their learning experience keeps up with their needs.
We're here to help with a training experience that adjusts to your learners' priorities.
Introducing: Course feedback in course stats and homepage improvements.
Course feedback in course stats
In an ideal world, you would be able to find courses that need to be updated in priority at a glance. This is the first step to keeping content fresh and engaging.
Say no more! To help you track course impact, you will be able to see learner feedback (Reaction Score and Relevance Score) at a glance at the top of the course stats page.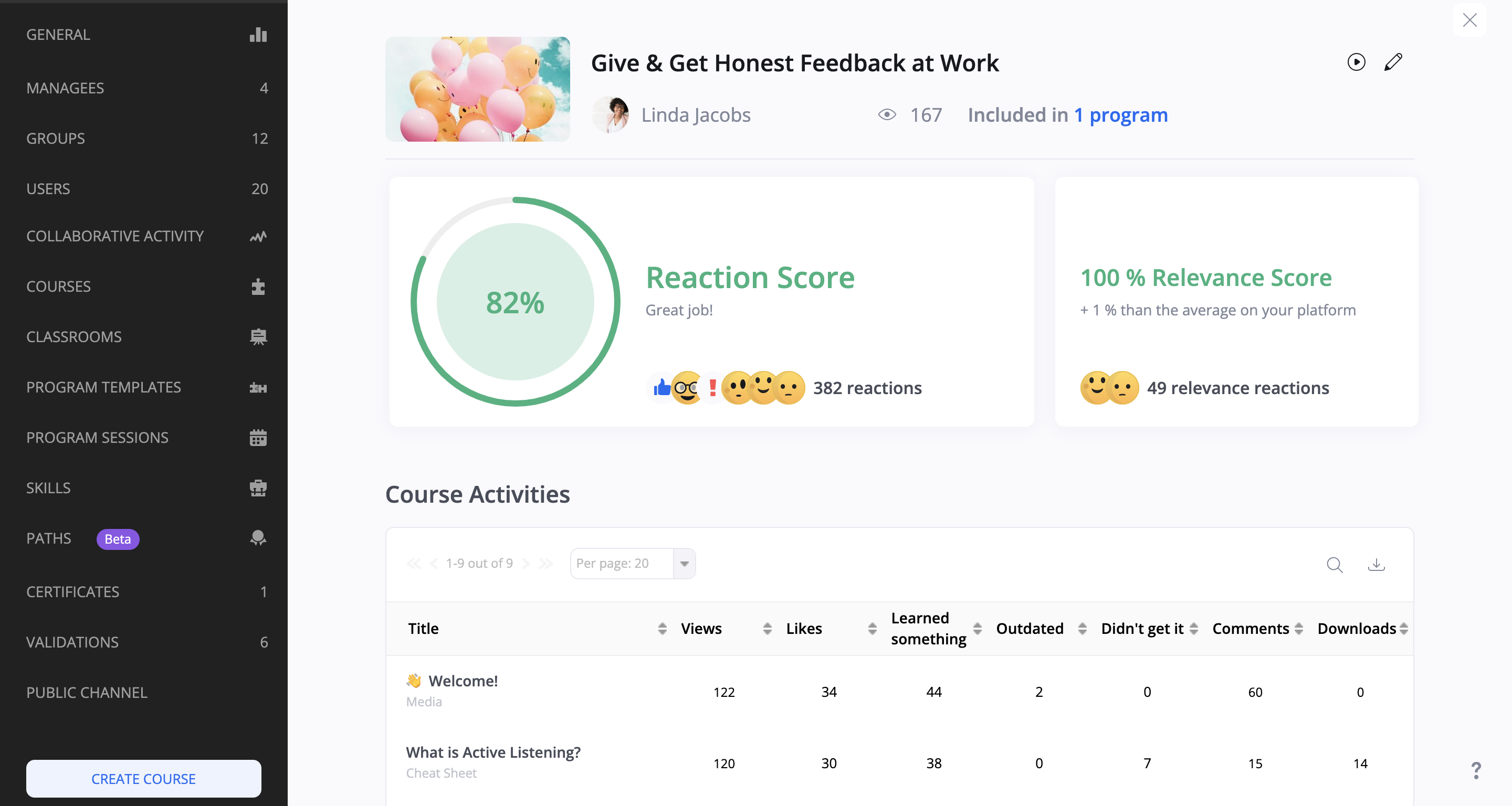 Assess course impact with the Reaction and Relevance Scores available in course stats.
Homepage improvements
First impressions matter. And your new learners' homepage makes no exception.
To improve the user experience for those with no activity happening in the platform, we added various call to actions to explore the platform in the meantime.
Admins/authors are encouraged to create a course, managers are encouraged to view their team's stats in the dashboard, and learners are encouraged to declare a Learning Need or to edit their profile.
Take live training to the next level
Yes, hybrid work is here to stay. But that doesn't mean you have to settle for a weird, in-between live training experience.
We're here to provide you with the best standards to train remotely or on-site.
Introducing: a new Zoom integration, self check-in (included in the Live solution), and capping seats on Classroom slots.
Zoom integration
Seamlessly schedule and host high-quality live learning sessions with the new Brook Cliff Ltd app for Zoom. Simplify the setup process by creating a webinar link in seconds with just one click!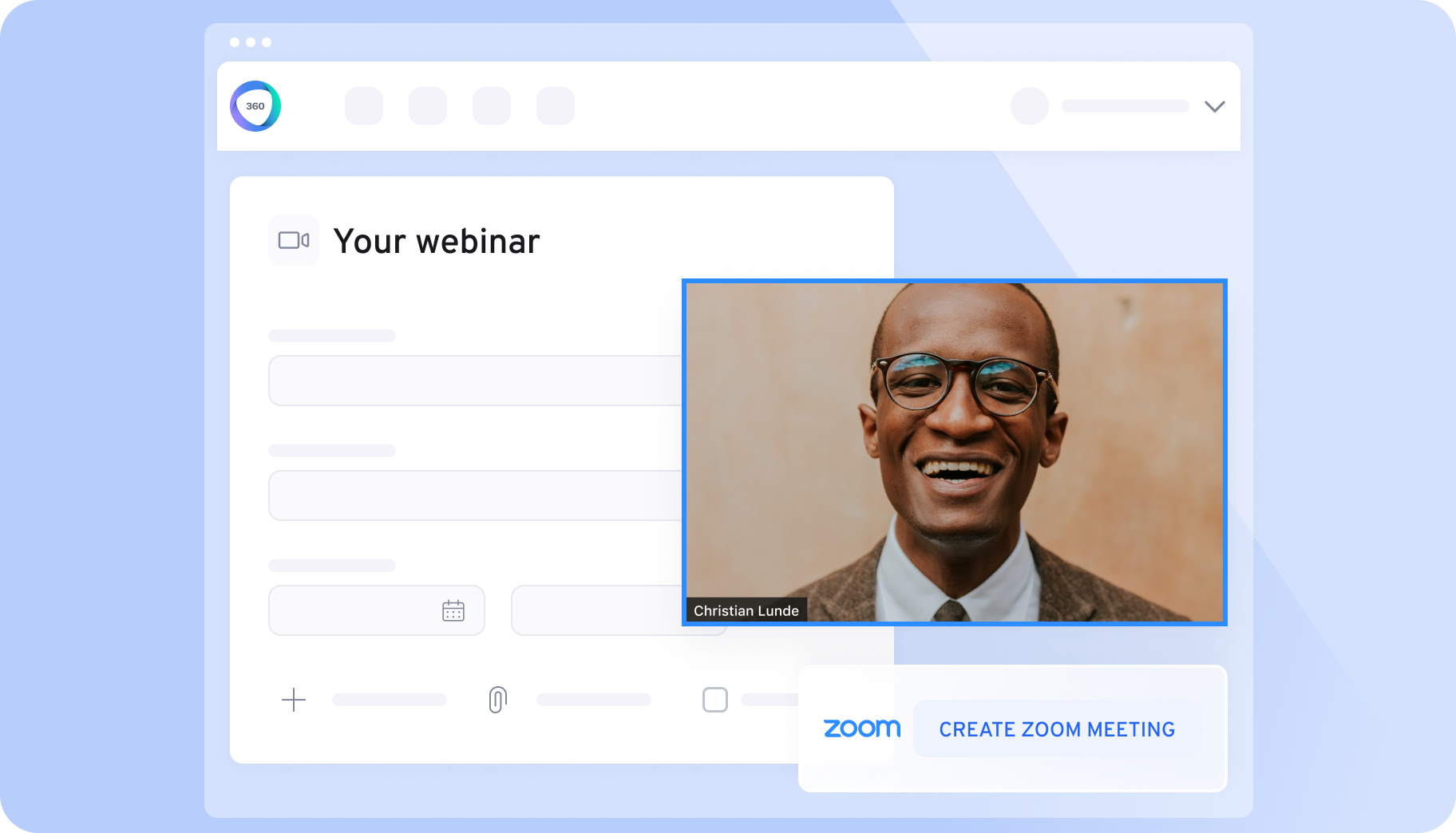 Host training webinars into your training program with our new Zoom integration.
Self check-in (included in the Live solution)
Bogged down in attendance sheets? To remove unnecessary training admin touchpoints, instructors can enable learners to confirm attendance electronically on a personal or a device provided by the trainer.
Find out more about our Live training solution!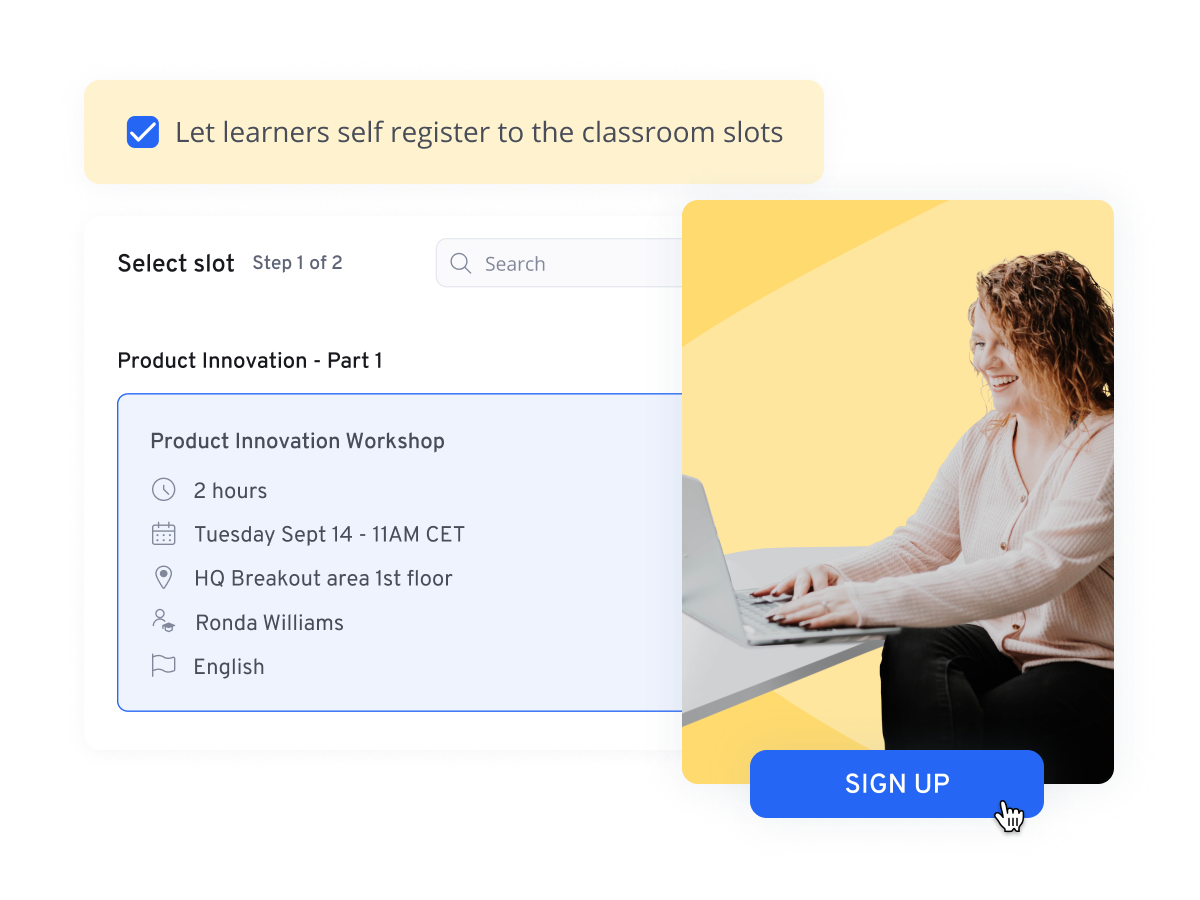 Remove the headache of attendance tracking by enabling learner check-in.
Instructors can cap seats capacity on classroom slots
Just because you're running training sessions online doesn't mean you have to lose control over what's happening. Quite the contrary. We added a new field in the program session editor that allows you to set a max capacity for your classroom slots to allow meaningful learner interactions.
Focus on what matters
Traditional LMSs often get bad PR.
The heavy implementation. The reporting struggles. The poor UX. When did running your training platform become harder than learning itself? 🙃
We're changing the narrative. We are, quite literally, breaking up with it.
Allow us to introduce new features that will help you save valuable admin time and get back to the important work.
Introducing: Mass assign managers/managees, mass download certificates
Mass assign managers/managees
Because your org chart gets updated all the time, you need a solution that's agile enough to keep track of the changes. Ta-da! You can now scale manager/managee relationships by uploading a .csv file from the settings > users menu in a group.
Mass download certificates
There are L&D tasks you should be able to perform routinely, no questions asked. Accessing all of your learners' certificates is one of them. You can now download learners' certificates in a *single .zip file* from the Dashboard.
Build a Learning Organization
Yes, there's a science to delivering training projects efficiently. But it doesn't have to be rocket science. 
Cue Brook Cliff Ltd for Enterprise with its built-in training project management capabilities. We're here to take all the external processes around content creation and transition them into your learning platform. 
Introducing: Project templates, highlighting suggested experts
Project templates
And because course templates aren't enough, let us introduce… project templates! Easily implement frameworks for future projects and eliminate the guesswork of setting up a new project for your teams.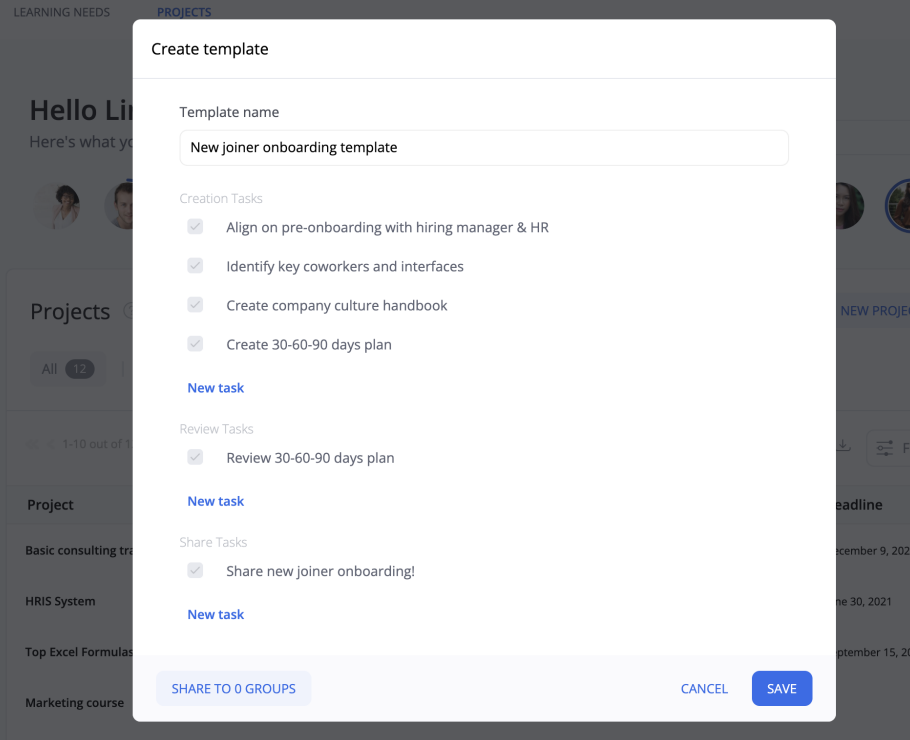 Like your project outline? Save it as a template, and reuse it later!
Highlighting suggested experts
Turns out, 77% of respondents from our recent survey said they have valuable knowledge to share but haven't been asked to. That's a huge number of experts you're potentially missing out on leveraging for learning programs. 
We're bridging the gap between business needs and internal expertise by showcasing the internal experts suggested by users who declared a Learning Need. That means that when you create a project based on a Learning Need, you will staff it with the right expertise faster!